Inman Aligner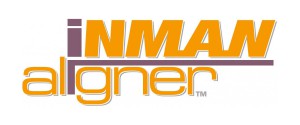 Inman aligners are a fantastic and quick way of straightening front teeth typically requiring only two to three months of wearing a removable appliance.
What Is the Inman Aligner?
The Inman Aligner is a custom orthodontic appliance that utilizes space age materials to generate comfortable, continuous orthodontic force. It can efficiently straighten out your front teeth.
Length of treatment
Inman Aligner treatment typically takes 6-16 weeks. Simple cases can complete in a little over 1 month and more complex cases might take 4 months or so. Your Inman Aligner Dentist will give you a realistic guide of what to expect. Normally lower front teeth move a little faster than uppers.
Comfort
Like any orthodontic appliance, the Aligner can feel a little uncomfortable for the first few days.
After a week most patients are used to their Aligner and have no problems wearing it and it will quickly feel like it belongs in your mouth.
Your speech will be affected for the first few days but it will get better!
Please take a look at our gallery pictures to see examples of the fantastic results that can be achieved.