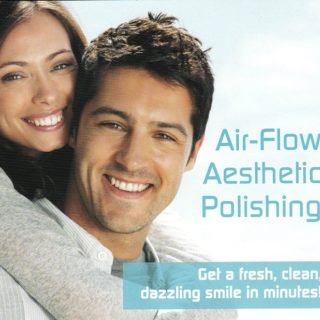 Air Flow Cleaning
We now offer Air Flow cleaning at Barker Dental Care. This innovative technique cleans and polishes the teeth with a mix of water, compressed air and fine powder particles and offers several benefits over traditional professional cleaning methods.
Improved cleaning–A powerful yet controlled jet of water, air and fine powder not only polishes all the surfaces of a tooth, removing plaque, discolouration, and soft deposits, but also reaches deep into periodontal pockets to remove the damaging biofilm that develops when dental plaque is colonized by bacteria. This aids greatly in stemming the development of periodontitis and is recommended for the dental maintenance of patients who are prone to periodontal disease.
Effective stain removal—Over time, teeth can become discoloured from drinking coffee, tea, red wine and also as a result of smoking. Air Flow cleaning is excellent for removing staining on teeth and restoring a brighter whiter smile.
Safe–Air flow polishing is completely safe to use with dental implants, veneers, crowns, bridges and fixed braces. Not only is it safe, but it is essential for properly cleaning around implants to ensure the success and longevity of the implant.
Improved patient comfort—Air flow is a painless, fast and non-invasive method of cleaning. The powder used in air polishing is also more pleasant and less gritty than the paste used in traditional polishing. For patients who suffer with sensitivity when having their teeth cleaned and who typically need local injections to make cleaning more comfortable, Air Flow is an excellent alternative. No injections are needed and our patients have commented what an easy and painless cleaning experience they have had with us using Air Flow.
Ideal for use before & during orthodontic treatment— Air polishing is an ideal way of cleaning the teeth before procedures that require bonding and the use of sealants as it removes nearly 100 percent of bacteria to make it easier for bonds and sealants to grip to the surfaces of the teeth. Also during orthodontic treatment, using Air Flow achieves a much more comprehensive cleaning around brackets that cannot be accomplished with traditional cleaning methods.
The patient in the photos below previously required local injections prior to having his teeth cleaned due to sensitivity. However, Tim now uses the Air Flow to clean this patients teeth which requires no injections, is very comfortable for the patient, and is excellent at removing the staining.
What Our Patients Say….
"No pain and great results!"
"It was brilliant. Normally I have injections as my gums and teeth are so sensitive. This time I did not feel a thing. It was fantastic."
Ask your dentist or a member of our team if you would like more information about Air Flow or to book your Air Flow clean.
Our Hygienists: Jacqui Read , Debbie Galanakis , John Murray
---