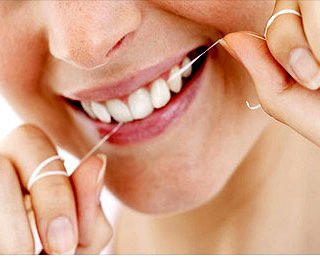 To Floss Or Not To Floss?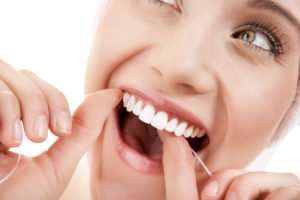 ---
That is the question of the moment.
Recently there has been conflicting evidence presented in the press regarding the use of dental floss. A US investigation released at the beginning of August surmises that there is no evidence or proof that flossing prevents gum disease or stops cavities, and as a result, the US health department has incorrectly removed daily flossing from their dental advice.
Tooth brushing alone only cleans 3 of the 5 tooth surfaces. Consequently, our dentists have always recommended inter-dental brushes and/or floss to our patients as a method of cleaning between teeth to help prevent gum disease and ultimately tooth loss from the development of periodontal disease.
Interdental brushes, however, are only effective where gaps are large enough that the brush can be pushed through a gap between the teeth. Interdental brushes do come in a variety of sizes to accommodate varying gap sizes between teeth, but if a patient has very tight spaces between their teeth or has overlapping crowded teeth, interdental brushes will not work. Instead floss should be used to ensure that food debris and plaque are removed from these spaces in-between teeth.
Any one method alone is not going to be suitable for all patients or indeed suitable between all teeth spaces/gaps in one patient's mouth. This is another reason why it is critical to see your dentist and hygienist regularly. Our dentists and hygienists can spot potential problems early and can advise you on the most appropriate oral hygiene techniques for your continually evolving dental health.
In another recent article in The Telegraph, the perspective of UK dentists was clarified on this issue.
Michaela ONeill, President of the British Society of Dental Hygiene and Therapy, said: "Although flossing has not been proven to be effective, one of the major problems of the research so far is that it makes some conclusions which cannot be applied to all patients. Patients are individuals and consequently have different needs.

"In recent years, gum disease has been linked with serious health conditions such as diabetes, stroke, cardiovascular disease, poor pregnancy outcomes and even dementia.

"Regular interdental cleaning removes the biofilms that develop in-between teeth. This is commonly called plaque and hosts various microorganisms which, if left in situ, can lead to dental decay. It is this plaque that we aim to remove daily."

Philip Ower, president of the British Association of Periodontologists said: "Floss is not a waste of time, it is a viable alternative to interdental brushing where appropriate.

"The British Society of Perdiodontology has launched a national gum awareness campaign. One of the key messages is that daily interdental cleaning is an important health measure to prevent the onset of gum disease."

Individual dentists also said they had seen visible improvements when their patients used floss or interdental brushes.

"I have seen a marked reduction in plaque through flossing in the practice," said Dr Richard Marques, of Wimpole Street Dental in London.
What we would advise our patients is that first and foremost you need to be brushing your teeth twice daily and employing effective brushing techniques. It is also very clear that cleaning between teeth where a toothbrush cannot reach is a vital part of maintaining healthy teeth and gums. It is very important to remove plaque from between teeth. By doing so, you help prevent gum inflammation which if left untreated can lead to a tooth becoming mobile and ultimately to tooth loss.
The best method (inter-dental brushes or floss) to use when cleaning between your teeth will vary depending on the size of the gaps between your teeth which can also vary within your own mouth. Our dentists and hygienists are always on hand to advise you on the best strategies for improving your oral hygiene and for ensuring that you maintain the best dental health possible.
Our Hygienists: Jacqui Read , Debbie Galanakis , John Murray
---